When I was a kid, my all-time favorite meal would probably have to be when my Pops would fry up bomb fried chicken with some delicious fries and macaroni to go with it. His fried chicken is so good that I literally compare every piece of fried chicken (& food in general) to his cooking because no one can cook like my pops (except my Aunt). After I moved out of my parent's house, I had no other choice but to try and put what I learned from my Pops to the test and that's exactly what I did! I have finally perfected my way of cooking fried chicken so I thought I'd share my tips with you. Here is a list of what you will need! (I don't measure things, I just season until I can smell the spices lol)
What you will need for Wet Chicken Mix:
Chicken of your choice (I chose boneless chicken breast to make chicken tenders.)
Milk
Hot Sauce (I used Red Devil & Tabasco)
Black pepper
Salt
Ingredients for Dry Chicken Mix:
Salt
Flour
Black Pepper
Paprika
Garlic Powder
Onion Powder
Slap Ya Mama Seasoning
Since I got the boneless chicken thighs, I went ahead and rinsed them off, trimmed the fat, and cut them into little strips. Once I have that complete, then I season the strips with some pepper, salt, garlic powder, and some slap ya momma. Once you have the chicken strips seasoned, go ahead and set them aside while you start to prep the wet batter for your tenders!
 To make the wet batter you need a medium-sized bowl, hot sauces, the seasonings listed above, and then go ahead and mix it all together. Once you have the wet chicken batter seasoned to the T, then you will want to add your seasoned chicken in the bowl.
You can marinate the tenders overnight or for a few minutes, but either way works! I like to marinate them for about five to ten minutes, but it's definitely your personal preference. Just make sure the tenders are submerged before you move on to the next step, so you can have juicy tenders. After you get your chicken submerged into the wet batter, then you will want to start working on your dry chicken mix.
 To get started you will want to get your flour and pour it into another medium-sized bowl. I usually get about two cups of flour or so and then I add in the seasonings listed above on an as needed bases. I was being foreal when I said I season until I can smell the spices lol, so season until you can smell the deliciousness. Just go easy on the onion powder though because you don't want it to be too much. After I mix all the seasonings together, then I grab the chicken out of the wet mixture and start to bread it with the flour mixture. I usually do the wet mixture, then the dry mixture once, but this time I did the whole process twice and it made a huge difference.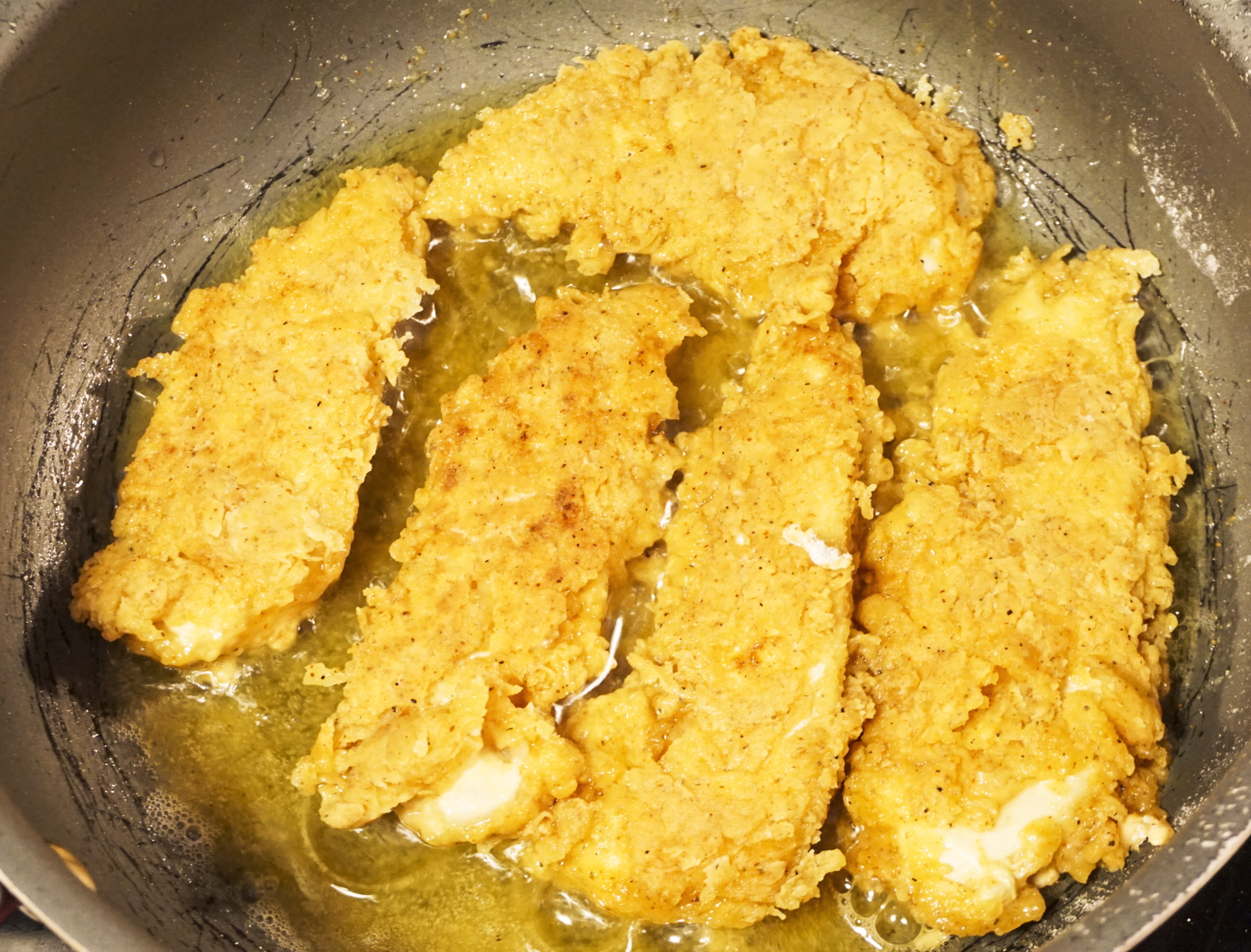 Once you have the chicken breaded, then you will want to coat a medium-sized pan with some veggie oil and turn the burners on medium. Once the oil is hot, go ahead and start cooking the tenders. Usually, I sprinkle a little bit of slap ya mama on both sides of the tenders when I put them in the pan and it gives it the PERFECT touch. The tenders should take about 15-20 minutes or until there is no pink in the middle(: After that, all there is left to do is grab a plate and enjoy the deliciousness you just made! Thank y'all for taking the time to check out one of my fav recipes and stay tuned for the homemade mashed potato recipe because it's coming soon! Hope y'all enjoy!