Hey loves! So it's not every day that I am wearing make up, but when I do I like to go all out! I thought this would be a fun little blog post to do because I get asked sometimes what foundation and other beauty products I use and now I can have them linked for ya!
So step one to my beauty routine is to always make sure that my face is cleaned and moisturized. I have learned from watching many youtube videos and from experience that my face looks and feels better with my make up on when I moisturize compared to when I don't, so make sure you moisturize. For my moisturizer I like to use either my It Works Preventage or I will mix my Tatcha Water Gel with a couple of drops of my Kiehls Oil and I am good to go!
After I moisturize I tend to have a hard time picking which foundation I want to wear, but I
tend to always go for the foundation on the right. That foundation is called NARS Radiant Long-wear Foundation and I am beyond obsessed with it! It gives you the most natural glow with medium coverage. I like this foundation because it has enough coverage that it covers the scars and unevenness that is on my skin, but it doesn't cover up my freckles which is something that I really love. I can use about four pumps for my entire face and I am good to go. I don't like to wear foundation in the summer because it is so dang hot here in Texas, but if I do then this foundation gives me no problems! The other foundation on the left, the one that I used in this post is called the NARS All Day Luminous Foundation in the shade Barcelona and this one is another fav of mine!
So to get started I like to just get a few pumps on the back of my clean hand and then I just dab it on one side of my face at a time and work it that way. This foundation works best with your hands and works best when you do one section at a time since it does dry so fast, so that is a tip I highly recommend.
Here is an example of what I mean by dabbing it in sections. You will definitely look funny for a hot minute, but it makes it a breeze to blend out! I do this on both sides of my cheeks, my forehead, my nose, and I make sure to get my eyelids too so they match the rest of me. Don't forget to match it down to your jawline so you can be flawless after we blend.
From that point, I grab my DAMP beauty blender and just go over my entire face to make sure that everything is nicely blended and so that you cannot tell where I stopped on my makeup application. I have tried SOOO many beauty blenders and this Morphe beauty blender has to be my favorite. It's also only $7, so if you don't want to buy the $20 beauty blender, then this will be your fav!
After I blend out my foundation, I get my Tarte Shape Tape concealer in the shade medium and I put it on the bags under my eyes, under my nose to cover scars, my forehead, and I use it to highlight my nose. I used to do the dots, but I found that doing the lines like this was easier to blend out. To blend out I spritz some fix + on my beauty blender and go to town lol.
After I blend out my concealer, then I get either my Sacha Buttercup Setting Powder (Thanks Terree Ann) or the Laura Mercier Translucent powder and set the concealer. I'm actually obsessed with both of these setting powders, but the Laura Mercier is my fav cause I feel like it leaves me flawless! They are both amazing, but two different price ranges, so if you're on a budget try the Sacha Powder!
While my concealer is setting, I usually use this time to contour the rest of my face. I use the Lorac Pro Contour kit (s/o to Kat) and mix the light and medium contour shade to get my perfect contour color.
When I contour, I like to contour my cheeks first and then I usually go up to my forehead from there. If you have a huge forehead like I do, then this will be your best friend because it does wonders when you're trying to reduce the appearance of your forehead lol. Same goes for your nose, just contour the edges and you will look much more snatched after that.
After I contour and while I still have the setting powder on, I like to go ahead and apply my blush to the apple of my cheeks. This is my all time favorite blush and it is in shade Paaarty by Tarte. A little goes a long way too so it lasts a long time! After I fix my blush, then I take off the excess powder and move to the next step.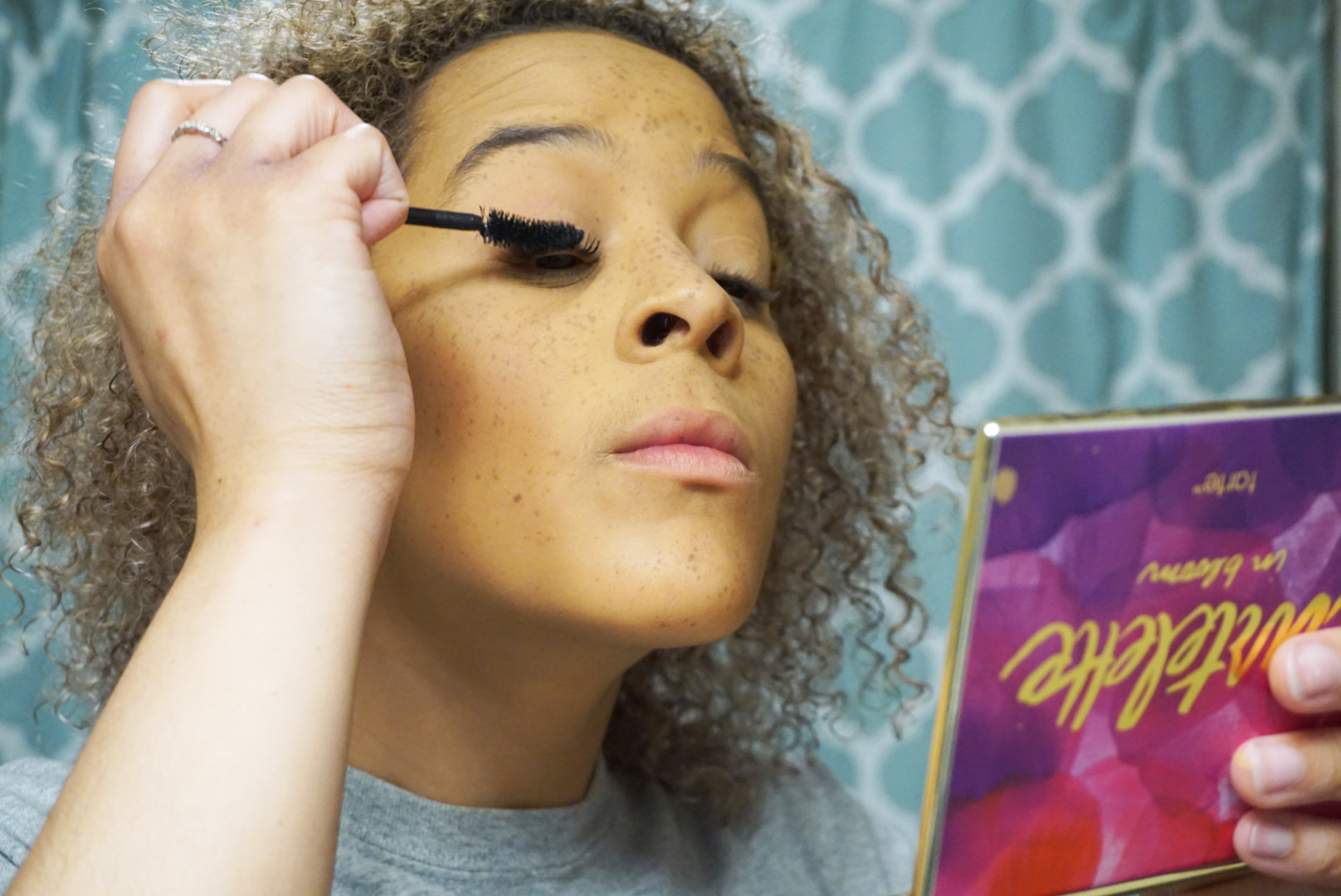 So I got this Rimmel Scandal Eyes Curve Alert complimentary of Influenster and it's not too bad. I like the wand and I like the tube, I just wish it made my lashes a bit longer. It's good to use if you like to put on mascara for falsies, but if you like to only use mascara then this probably won't give you the length or volume you're looking for. My favorite mascara to use is They're Real by Benefit and it's on I highly recommend!
I know y'all are probably realizing that I didn't do my brows and that is because they are super full and if I feel them in they look super bushy, so I just leave them as is. I hope y'all enjoyed this little break down on how I do my makeup and the products I use! Let me know what else y'all want to see and I got y'all.