Okay y'all! I'm sure by now you have figured out that I am ALWAYS on the go and always either at work, at school, or working on something else of mine, so I like to make everything else as simple as possible. Fred and I have gotten to a point where we do not care to pick up fast food, so we usually get something quick to cook. On Tuesday's our days are busy, so something quick is needed. So after work and school, I went to the store and got stuff for stuffed shells!
Here is a list of the ingredients and seasonings that were used:
*Ground Beef (I got 15% fat) *Lawrys Seasoning Salt
*Jumbo Shells *Garlic Powder
*Shredded Cheese *Pepper
*Marinara Sauce *Chopped Onions
*Chopped Onions (optional) *Chopped Pepper
*Chopped Fresh Pepper (optional)
Usually, to start off, I preheat the oven to 350 degrees and then I get a medium pot and fill it with water and put it on the stove to get it boiling. While the water is getting ready to boil, I rinse off my ground beef and start to cook it on medium with some chopped onions.
Sometimes I will chop up peppers too, but I didn't have any. As the meat is browning I put around 12-15 shells in the water to let them cook and I usually add salt to give it some flavor to cook with.
Once the meat and noodles are done, you will want to set them side by side with a spoon and a long pan to put in the oven. You will want to take a shell, put some cheese in them, add the meat, then do it with the rest till it is all gone.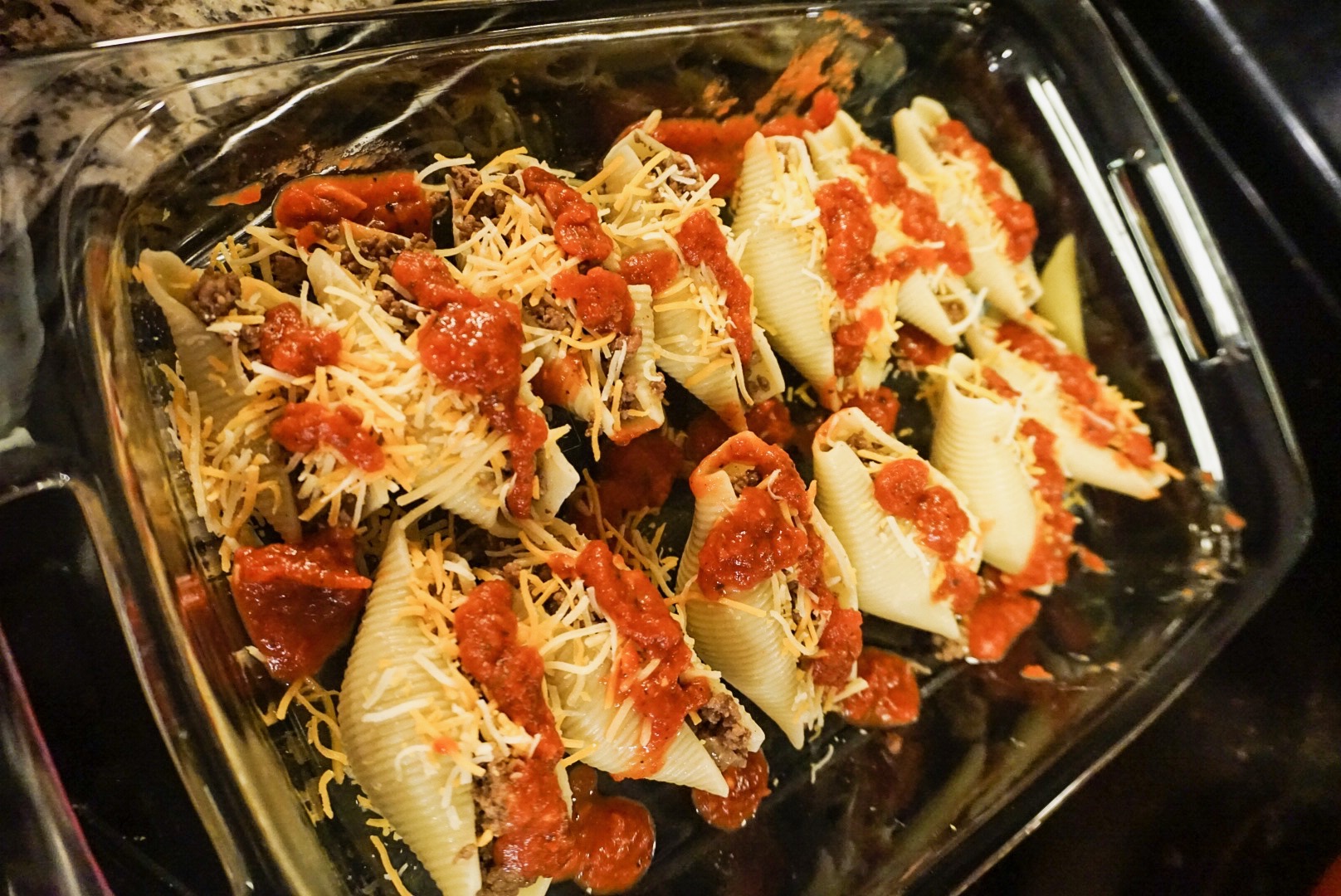 Once you are done, sprinkle them with a little bit of cheese, top it with the marinara, and if you're a cheese-head like me, then you will want to top the sauce with cheese too. I usually cook them for 5-7 or till the cheese is melted. This meal is seriously one of my favorite and fastest meals to make, so I hope y'all enjoy them as much as we do.
Let it cool and then enjoy!